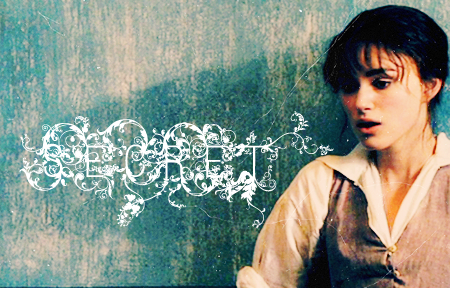 Watch the sunrise
Say your goodbyes
Off we go
Some conversation
No contemplation
Hit the road

Car overheats
Jump out of my seat
On the side of the highway baby
Our road is long
Your hold is strong
Please don't ever let go Oh No

[Chorus:]
I know I don't know you
But I want you so bad
Everyone has a secret
But can they keep it
Oh No they can't

I'm driving fast now
Don't think I know how to go slow
Where you at now
I feel around
There you are

Cool these engines
Calm these jets
I ask you how hot can it get
And as you wipe off beads of sweat
Slowly you say "I'm not there yet."

[Chorus x2]

=D This is my second P&P (2005) music vid. I didn't post my first here in my LJ, but you can see it
here
on YouTube (song is "Strange and Beautiful" by Aqualung.)
-
Disclaimer
: Pride & Prejudice is copyright of Focus Features, Universal Studios, and Working Title Films. I own nothing. This is non-profit, as you all know. It's all solely for entertainment purposes.
-
Song
: Secret by Maroon 5
-
Story
: There isn't really a story to tell in this vid. I just adore all the sexual tension between the two. I guess you could call this a sexual-tension-filled-long-sultry-gazes montage, lol. Just enjoy all the pretty.
-
Pairings
: Who'd'ja think? =) Darcy/Elizabeth
-
Download
:
Secret.wmv
(27.75 MB)
-
YouTube
:
Feedback is always appreciated. =)
x-posted to
prideprej05
feeling:
rushed